Emergency Dentist — Boerne, TX
Fast Care for When the Unexpected Happens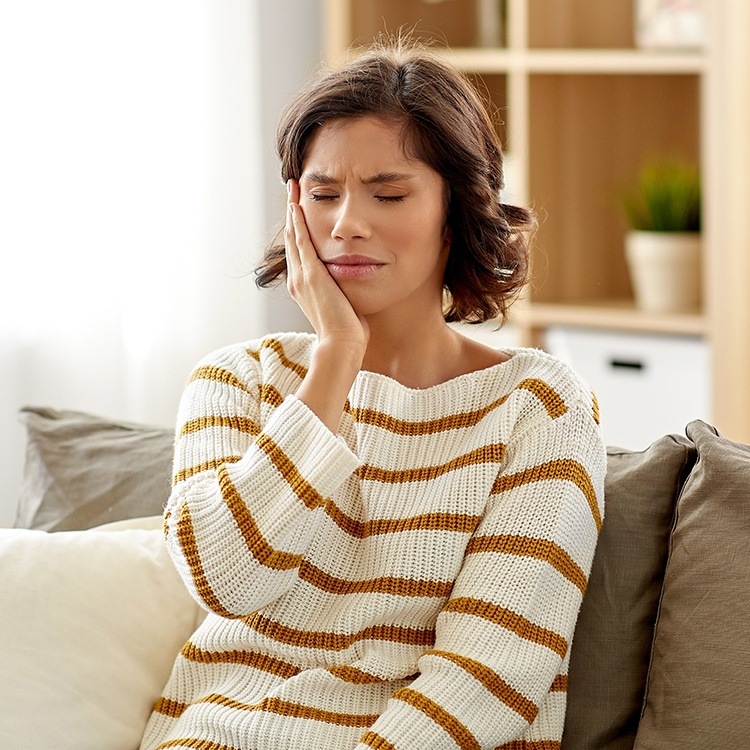 Dental emergencies tend to come out of nowhere and are always an unpleasant surprise. No one wakes up in the morning expecting to deal with a cracked, knocked-out, or painful tooth! Fortunately, should you ever find yourself in need of immediate dental care, you can just call Boerne Dental Center. We'll let you know what to do over the phone and schedule a same-day appointment so we can get rid of your pain and fix any problem as quickly as possible with emergency dentistry in Boerne, TX. For fast care when the unexpected happened, don't hesitate to give us a call.
Why Choose Boerne Dental Center for Emergency Dental Care?
Trusted By Boerne Families Since 1965
Same-Day Emergency Appointments Available
Sedation Dentistry Available for Optimal Comfort
What to Do in a Dental Emergency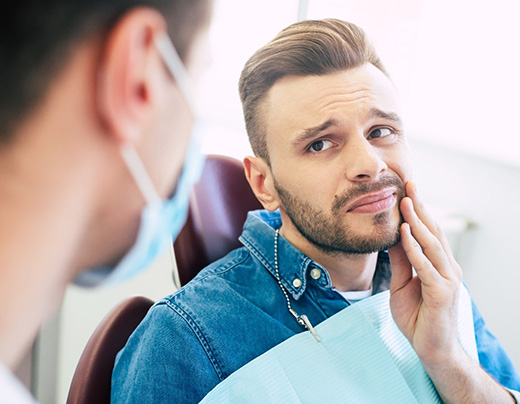 Step 1: Give us a call as soon as you can! We do everything we can to schedule same-day appointments for emergency patients, so don't wait to give us a call.
Step 2: Follow our over-the-phone instructions. Over the phone, one of our experienced team members will walk you through some basic first-aid for managing your situation until you can reach us for your appointment.
Step 3: Get an emergency exam. When you arrive, one of our dentists will see you right away for your emergency exam. During this time, we'll focus primarily on understanding the source and extent of your emergency, as well as relieving any pain you may be in.
Step 4: Review your options and make a plan. Once your situation has been stabilized and you can think clearly, we'll review our finings with you and fully explain all your treatment options. Factoring in price, necessity, and your preferences, we'll work with you to create a custom treatment plan.
Step 5: Get the fast dental care you need right away! Whether you need a filling, antibiotics, a dental crown, a tooth replacement, root canal therapy, or something else entirely, our talented team will jump into action as soon as you've agreed to a treatment plan.
The Most Common Dental Emergencies
A dental emergency is any situation in which a person is feeling a lot of pain associated with their teeth and mouth or they have experienced a traumatic oral injury. The first thing anyone should do is call our dental office, and our team will be able to walk them through first-aid over the phone. We'll also schedule an appointment so we can see someone right away. In the meantime, however, there are a few things people can do to take control during the most common dental emergencies. Read on as we go over some important information about the most common dental emergencies we treat.
Understanding the Cost of Dental Emergencies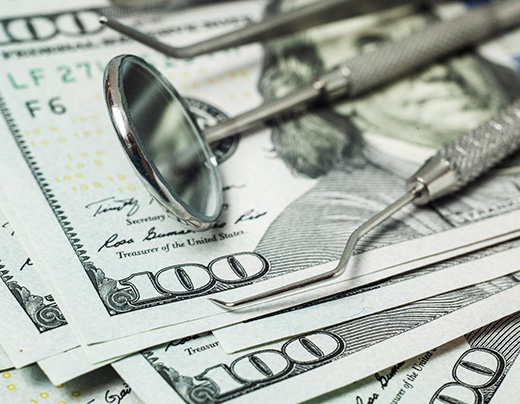 The cost of treating a dental emergency is always different from patient to patient depending on the type and extent of their injury. What's consistent, however, is that it's always wise to seek out care quickly before the pain or dental issue has a chance to become worse. We're happy to make this type of care affordable for absolutely everyone by accepting dental insurance and even offering our own in-house savings plan.
How to Prevent Dental Emergencies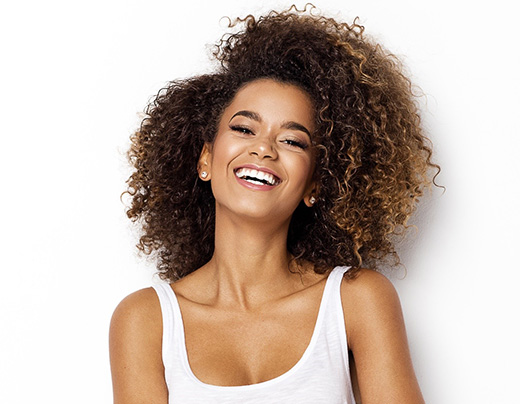 Wear a mouthguard whenever you play sports—up to 40% of all dental injuries stem from sports-related accidents!
Preserve your teeth and don't chew on items like ice, popcorn kernels, pens, pencils, fingernails, etc.
Be careful when eating or biting into particularly hard or sticky foods.
Don't use your teeth to open packages or bottles.
Keep up with your oral hygiene and dental checkups so small problems can be prevented and treated before they turn into big emergencies.
Dental Emergency FAQ's
Are you worried about experiencing a dental emergency and not knowing what to do? At Boerne Dental, our team will be with you through every step of the way, including offering your first-aid over-the-phone guidance. In addition, we've answered some common questions we receive from our patients below, for your convenience.
Should I Go to the ER or My Emergency Dentist?
Dental emergencies happen at the most unexpected times, which makes them incredibly stressful to deal with. In the moment, it can be difficult to assess your situation and determine whether you should visit your local ER or emergency dentist. If you're in pain that's not life-threatening, your emergency dentist is the best place to go. Otherwise, if you have a fractured or broken jaw, deep facial laceration, or are having difficulty breathing or swallowing, you require immediate medical attention and should go to the nearest ER.
How Can I Tell If My Problem Is Actually An Emergency?
Some patients worry about turning a small issue into a big deal by immediately jumping to the conclusion that they require emergency care. If you're concerned about this, here are a few traits that signify that you require urgent treatment:
You have a severe toothache.
Your mouth is bleeding.
You have a damaged tooth.
Your tooth has fallen out or is loose.
Chances are, if you're in pain or experiencing any out-of-the-ordinary symptoms, you should contact our office so we can diagnose and treat the situation.
Will My Toothache Go Away On Its Own?
Unfortunately, it's not likely that your toothache will disappear on its own. Before you contact our office, be sure to gently floss around the affected area and rinse with lukewarm salt water. If your pain persists, it could be a result of a bad tooth infection, which will require immediate intervention. If your tooth goes numb, it could mean that the nerves inside are dead, and it may need to be extracted. Either way, it's important to get to our office as soon as possible so we can treat the problem and prevent it from getting worse.
I'm Scared to Visit the Emergency Dentist, What Should I Do?
Experiencing a dental emergency is scary enough as it is, but if you also suffer from dental anxiety or fear, it can make the prospect of picking up the phone and calling our office even more daunting that it already is. Fortunately, at Boerne Dental, we offer oral conscious and nitrous oxide sedation so you can feel relaxed and comfortable while getting the dental care you need. That way, seeking help doesn't have to turn into a traumatic and unforgettable event for you. Simply let our office know when you call us to schedule an emergency appointment, and we'll be prepared to administer sedation when you get to our office.